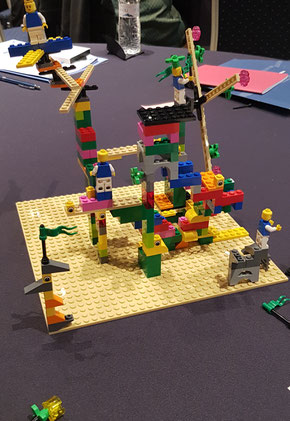 To me, being motivated to learn is something that comes intrinsically. I have always liked school (yes, I have!), liked university and now I enjoy developing myself by getting further education, trainings, coachings and a lot of self-study. 
As a lecturer at a business school and helping teams and companies develop innovative ideas and creative solutions in development and innovation processes, teaching, learning and delivering learning atmospheres is an essential part of my worklife. I aim at providing a safe space, trustful and honest, playful and creative, in which students as well as clients can learn, develop, open their minds, think outside the box and also learn from each other. 
Therefore, I was more than thrilled to be part of the Learning Spaces Summit last week in Barcelona. Being one of the speakers, I intended not to talk too much about my experiences, but deliver an interactive and engaging LEGO SERIOUS PLAY session, in which the attendees can experience themselves in how far playful and creative approaches can foster group thinking and deep dialogues. During the workshop, we discussed the future of learning, essential skills and barriers that might hinder learning processes.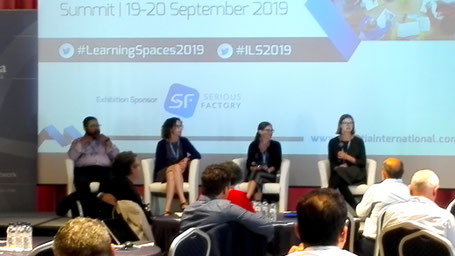 In the final expert panel I was delighted to be able to share my insights on innovation and creativity in learning and teaching. For me, yes, technology should have its place, but so do other methods. Working with creative methods and being a design thinker, I am wondering in how far user-centric approaches can be implemented within education. No matter if you design a new learning space or create an innovative curriculum, what if we included the learner more into that process? Maybe some need a quiet space for studying in depth, maybe a different group of people is more into co-working. I vote for not forcing them into the idea the teacher / lecturer has, but to co-design a common teaching and learning atmosphere.
-
I have returned from Barcelona with a huge amount of ideas, inspiration, learning, but also questions:
-       Room to grow in educational innovation. In comparison to the innovation developments in other industries, not so much has changed in education, if we for example look at classrooms 100 years ago and today. Some institutions might have installed technological progresses such as interactive smartboards or tablets, the general setup, however, has often remained the same. That means, there is still room to grow, in practice as in science. Teachers are more welcome to try out new teaching methods and ideas to get students engaged. The general openness to pilot projects, which are a huge source for learning, is given.
-       The teacher of the future will probably need to be rather a facilitator than the classic knowledge-center of attention for the students. It will be more relevant for teachers to engage students and foster intrinsic motivation for learning. Also, a focus will be laid on soft skills and on co-designing solutions. 
-       Versatlity is key. Do we need classic classrooms or creative co-working areas? I vote for both. They will co-exist. Especially because students, as we all, tend to lose the ability of focusing. We get bored more easily. Thus, a change of places, of topics and of learning spaces, can foster keeping us motivated and engaged.
-       Innovation. As with any other sector, I believe that copying a successful process that a fellow company, institution or university has undergone, does not make too much sense. It is important to undergo the innovation and development process yourself. Only that way you can get your employees and other stakeholders engaged and committed and really find the individual aspect that makes that process relevant for them.
Thoughts on student life
-       I am wondering if exams and tests will still be up to date. The focus of any teaching class should be that students understand, really understand, the content and are able to apply it. Learning for the sake of passing an exam and afterwards forgetting the content again, is outdated.
-       There is a huge amount of studies confirming that students´ wellbeing is going down. Students lack a sense of belonging and purpose. Additionally, with distraction everywhere, mainly due to technology, they are longing rather for quiet zones and relaxing time. Companies have already started introducing quiet zones, meditation or yoga rooms. We might need to consider that for educational institutions as well. Because after all, health and wellbeing is essential for any kind of learning (and teaching) process.